All posts in February 2015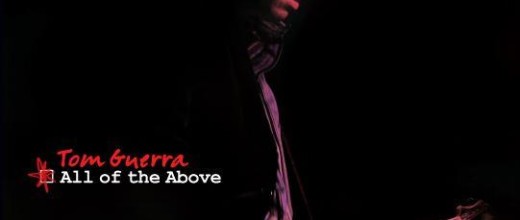 Tom Guerra – Saving Rock and Roll and "All Of The Above"
Remember Rock and Roll? No, really do you remember honest, street wise, riff hungry, hook oriented cool rock and roll? Well, even though it may not get played much on terrestrial radio, it's still out there. The only difference nowadays you gotta go the extra mile and seek it out, but when you find it…AH! you know it.
Such is the case with the new album from vocalist/guitarist and tone king Tom Guerra.
The new album "All of the above" is a love letter to the influences of some of rocks greatest tones and approaches and is both a tribute and a road sign pointing in a positive direction for our beloved genre. Weaving in and out of honed styles and layered textures with killer guitar tones, techniques and memorable hooks like "Cup of Tea" and "Refrigerator Blues" that just keep you coming back for more.
Guerra, guitarist and co-founding member of the Mambo Sons decided that it was time to step out (if only for a short while) from being one of the "Sons" to be the only child for this project that seems to be both a lyrical and vocal catharsis as well as a needed expression of his guitar prowess. You can hear and feel the angst AND the satisfaction.
Highlights for me are "Get offa my groove" a great title and great way to open a record. "Queen of the Autumn Moon" and its haunting tone with its too cool backward masking. The "Keef" approved "Cup of tea", The bad ass street wise snotty rocker "Refrigerator blues" and the funky ditty that reminds me of the Garden State parkway "Down on the turnpike"
This disc assures me rock and roll is still alive and well and living in the hearts of rockers like Tom Guerra and man, thats a good thing.
Mark Daven
Guitar Radio Show
For more on Tom go to- http://www.tomguerra.com