All posts in August 2015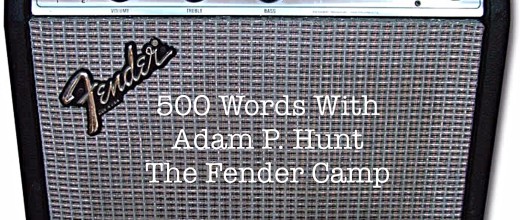 500 Words Fender Champ Amps by Adam Hunt
The Fender Champ loved by players around the world. It's distinctive sound was made famous by Eric Clapton's work on the singular Derek and the Dominos album. Despite it's diminutive size it punches above its weight in studio settings.
Prior to establishing Fender Musical Instruments in 1946 Leo Fender and Clayton "Doc" Kauffman ran a short-lived music company called K&F in 1945. Originally launched in 1948 as the Champion"800" I'm sure that the Champ's origins stretch back to Leo Fender's days with K&F.
According to amp repairman and tube amp historian, Aspen Pittman, the earliest versions of the K&F amps were not equipped with a tone and volume control because both the tone and volume were controlled by the lap steel guitar that was sold with the amp.
The omission of dedicated tone and volume controls however was not an uncommon practice for amps that were produced during the late 1940s.
Looking at the topography of K&F "lunchbox" amps and the original "tweed" Champs the similarities are striking. Both the "800" and the K&F "lunchbox" had a simple tone/volume layout, a single 8" speaker, pine cabinet, 5Y3 rectifier and a 6V6 power tube that put out a staggering 4 watts of power.
Throughout the years the venerable Champ went through many changes in terms of cosmetics, speaker size, wattage and features. Despite these changes the Champ remains a portable, affordable and beloved musical partner.
So well liked in fact "The Tube Amp Book" author Apen Pittman considers the 1958 version of the Champ as one of his picks as one of the top ten all time classic amps.
Pittman was keen to point out why the Champ has remained so popular was its nearly unrivaled ability to distort at a low volume making it mic friendly in recording situations.
But as the years had progressed the Champion "800" eventually transformed itself into something resembling a lower priced Princeton. Not that that's a bad thing but those interceding changes does mean the Champ has lost some of it's unique characteristics.
Fear not, however, for players wishing to capture the sounds of early rock 'n' roll or gutbucket blues both VaulveTrain and Victoria make some stunning modern versions of Fender "tweed" style amps. 

For those that have slightly less deep pockets used Fender "tweed" reissues can also be found for a reasonable price online.
As a player I find there's a raw excitement in plugging into something like a Champ because there simply isn't any hiding. Every bend, every flub, becomes immediately apparent. Champ style amps also force a player really concentrate on squeezing the most out of each note if you want to get the guitar to sing. I also think that without regard to stylistic choice any player can benefit by practicing with a Champ style amp.
Any one who is looking for an affordable vintage voiced amp may also want to check out a Champ because a modern, high gain, amp may not capture that vintage vibe you are looking for.
Check 'em out.