500 Words with Adam P Hunt- Bowie's Guitarists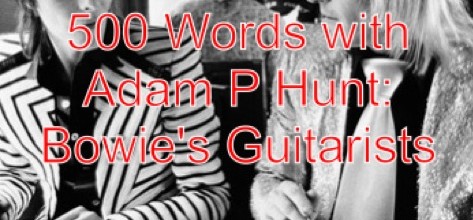 500 Words, The Guitarists of David Bowie
From young folike to alien invader, from Thin White Duke to elder statesman, David Bowie occupies a unique place in musical history. Some people don't like Bowie because they are turned off by his theatrical artifice. Other people don't like him due to his sexuality. I say that if you are willing to leave those trappings behind what you're left with is a bold, creative artist that has been backed up by some of the best guitarists in the business.
Mick Ronson: Despite his feathered hairdo, platform shoes and eyeliner Mick Ronson was the muscular counterpoint to Bowie's sexually ambiguous flouncing.
Earl Slick: Earl may be one of the great unsung guitar heroes because not only did he fill Ronson's enormous shoes for the '74 "Diamond Dogs" tour, he's also played with Ian Hunter, John Lennon the super groups Phantom, Rocker and Slick, and Stinky Vagabond, and the latest version of the New York Dolls.
Robert Fripp: Guitarist, inventor, and sole constant member of King Crimson Robert Fripp had been an innovative guitarist that has a developed a unique voice with his playing. Despite being best known for his work with King Crimson, Fripp has also worked with Brian Eno, Andy Summers, Toyah Wilcox, David Sylvian (vocalist of the group Japan), Van der Graff Generator, Peter Gabriel, Talking Heads and Blondie to name a few.
Carlos Alomar: Another unsung great, Alomar has shared the stage with Chuck Berry, James Brown, Luther Vandross, Arcadia, and has guested on albums by Paul McCartney, Simple Minds, Mick Jagger, Iggy Pop, and The Pretenders.
Peter Frampton: Before selling a zillion copies of "Frampton Comes Alive", Peter Frampton was an early member of Humble Pie. Frampton has also lent his talents to Harry Nilsson, Jerry Lee Lewis, George Harrison and John Entwistle. With a lot of well-received solo albums and a revitalized career we can almost forgive him for starring with the Bee Gees in Robert Stigwood's "Sgt. Pepper's Lonely Hearts Club Band".
Almost.
Reeves Gabrels: Gabrels can be best be described as a "guitarist's guitarist" because despite being well respected in the music world he's completely unknown to the general listening audience. When Bowie formed his own super group, Tin Machine, Gabrels became his right hand man. After Tin Machine Gabrels eventually found a semi-permanent home with The Cure and still plays an in demand sessions musician.
Stevie Ray Vaughan: Stevie Ray hardly needs an introduction and his guitar solos on David Bowie's "Let's Dance". It should be noted that when Stevie Vaughn exploded onto the scene blues was almost completely absent on the radio and was nowhere to be found on MTV. After Stevie's untimely death in 1990 it's become somewhat popular to bash Stevie. To his critics I'd like to say while there were a handful of blues torchbearers during the early eighties, no one had done more to popularize the genre since Stevie.
Adrian Belew: Belew has also played with a lot of the whose who of popular music including Frank Zappa, Talking Heads, Joe Cocker, Nine Inch Nails, King Crimson, Herbie Hancock and even Cyndi Lauper.
Nile Rodgers: While Rodgers may be better known as a producer he's also a founding member of Chic. Roger had also played with Screamin' Jay Hakins, Aretha Franklin, Daft Punk and Prince. Rodgers can also be heard playing counterpoint to Stevie Vaughn on Bowie's song "Let's Dance".
Adam P Hunt is a freelance writer who has previously written for The Library Journal and Premier Guitar Magazine. We are so happy to have him join us here at Guitar Radio Show.com.