500 Words With Adam P Hunt- Cheap Guitars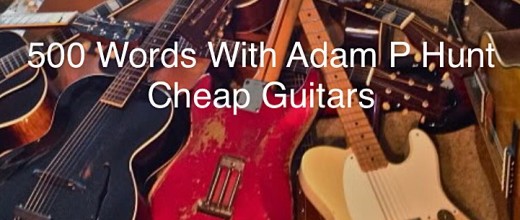 500 Words Cheap Guitars
I'm sure I'm not alone in this but I've often found myself fantasying about what guitars I would own if I had unlimited resources.
In my mind's eye I own a vault's worth of late 1950's Gibsons and Fenders, a couple Tony Zemaitis, and some of pre-Beatle era Gretch for good measure.
Of course there would be a rehearsal room that had some classic Fender, Marshall and Vox amps to play through but because I'm a working guy my resources are limited.
I've had owned a couple of 50's era guitars, a Gibson ES 125 and a Danelectro of some sort, but to be honest with you they both lived in their cases a greater amount of time than I actually played them.
As much as I liked them the two guitars had problems associated with vintage gear, such as underwhelming pickups, tuning stability and feedback.
Today I own a handful of guitars including my new favorite a Stewart-MacDonald pine body Telecaster. None of my guitars are what you would call "collectables" but instead they are a mix of functional off-the-shelf guitars set up to do a specific job.
As a player my ear and proclivity leans much more towards a vintage guitar sound but in order to capture more of that vibe I'm running a couple of vintage voiced amps with some relatively modern guitars.
I'm not going to fool myself to thinking that I can replicate vintage tones but I can at least live in a neighboring area code.
To me there are several reasons to buy a cheap guitar over a more expensive counterpart:
Most of the major brands offer lesser expensive versions of their premium level instruments.
Often times the lesser expensive versions can be found at a dramatic discount on the used market.
Playing live is risky because of the possibility of damage or theft.
They are a low risk alternative to buying collectables.
With a little massaging they can be star performers.
I can't speak to your specific needs as a player but I can say even sub $500 can be dramatically improved having professional set up done either by a guitar tech or doing it yourself with guidance of several excellent home repair books.
Dan Erlewine's "How To Make Your Electric Guitar Play Great!" is a very good guide even for non-professionals and so is "Complete Guitar Repair" by Hideo Kamimoto.
While there may be more after market pickups than you can shake a stick at don't forget to change the pots and caps while you are at it. Replacing subpar pots and caps can radically improve the sound and response of even non-premium guitars.
Stickers on your guitar will always improve your tone too.
If you still aren't noticing any improvement in tone you may want to buy a guitar cable suitable to the genre of music you play and even trying a different gauge of pick. "Cheap" doesn't need to mean "bad".
Adam P Hunt is a freelance writer who has previously written for The Library Journal and Premier Guitar Magazine. We are so happy to have him join us here at Guitar Radio Show.com.