500 Words with Adam P Hunt- Dan Armstrong Lucite Guitars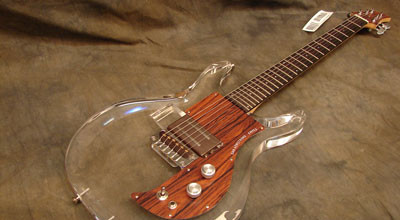 500 Words Dan Armstrong Ampeg Lucite Guitar
Quick! What piece of kit unites Keith Richards, Dave Grohl and Greg Ginn? No, it doesn't have anything to do with anything illicit it's the Ampeg Dan Armstrong ADA6.
Originally made between 1969 and 1971 the ADA6 "Dan Armstrong Plexi" was a guitar that was ahead of its time.
For one thing the "plexi" was one of the first guitars to use a double cutaway body a 24-fret neck, and it was also one of the first guitars made with potted, ceramic magnet pickups.
The original "plexi" allowed the user easily swap out any one of seven different pickup options without having to solder in new electronics. Kent Armstrong with cooperation with famed pickup and guitar designer, Bill Lawrence, designed the initial pickups.
Not too long ago Ampeg reissued the Dan Armstrong but to call it a "reissue" is not terribly accurate. In a 2006 issue of Guitarist Dan Armstrong, Kent's son, there were over 21 different changes done to the new Dan Armstrong and he felt the newer versions were, "Far superior".
One point Kent Armstrong wanted to make abundantly clear was that the older "plexi" pickups will not work with newer reissued guitars. While the newer versions of the guitar only come with three pickups additional custom made pickups are available.
Keith Richards used a "plexi" extensively on "Get Yer Ya Ya's Out" seen in the tragic concert film "Gimme Shelter" and was possibly used while recording "Exile on Main Street".
Allegedly Keith's "plexi" was stolen during the "Exile" sessions and as a result may have prompted him to start using Ted Newman Jones and Tony Zemaitis guitars.
Another famous "plexi" player was Black Flag founding member, Greg Ginn. Founded 1976 I'm sure Ginn was attracted to the "Plexi's" unique look and low price. For a brief period of time the band's drummer, Julio "Robo" Valencia used a transparent drum kit to help complete the look of the band.
Ginn used his "plexi" for the majority of the Black Flag recordings until his Dan Armstrong was also stolen. While Ginn used an assortment of Ibanez GRX prior to disbanding in 1986 the 2013 lineups have seen Ginn use a new plexiglass non-Armstrong guitar.
More recently Dave Grohl (Nirvana, Foo Fighters) and Stephen Egerton (The Dscendents, All, FLAG) have both been spotted playing a variety of different Dan Armstrong "plexi" guitars. And Joe Perry has been seen playing a "plexi" upon occasion too.
Why so I feel there is so much veneration for such an unusual instrument? I think they are cool for the same reason why a DeLorean DMC-12 is cool; they are cool by association.
The Dan Armstrong "plexi" guitars are also cool for the same reason why Fender Esquires are cool; they do one job and they make you look great while doing it.
Isn't that the essence of rock 'n' roll?
Rock 'n' roll is as much a visual language as it is about what stomp boxes you use or what vintage your Les Paul is.
If you're looking to stand out, give one a try, it may be just the thing you're looking for.
Adam P Hunt is a freelance writer who has previously written for The Library Journal and Premier Guitar Magazine. We are so happy to have him join us here at Guitar Radio Show.com.