500 Words with Adam P Hunt- Keith Levene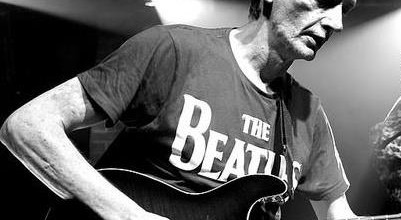 500 Words on Keith Levene
Keith Levene probably isn't the first name you think of when you hear then phrase "guitar hero" but he's a player that seems to have been everywhere and done everything.
If Greg Ginn is the Jimi Hendrix of punk rock then Keith Leven is the Bill Frisell of punk.
As a founding member of The Clash in 1976 Levene is probably best known for two things during his time in the band 1) he convinced Joe Strummer to quit his pub rock band the 101ers and join The Clash and 2) he co-wrote the song "What's My Name".
While in The Clash Levene had a brief encounter with John "Johnny Rotten" Lydon during a show featuring both The Clash and the Sex Pistols. Levene and Lydon agreed that they should work together at some future point.
Levene soon quit The Clash and formed the short-lived band The Flowers of Romance. Even though The Flowers of Romance never recorded or played live it was noted for including a pre-Pistols Sid Vicious as well as Palmolive and Viv Albertine both whom would later form The Slits.
The Flowers of Romance lasted about a year but the name would live on as the title of a Public Image Ltd. album and was the Sex Pistols song "Belsen Was A Gas" had its origin in the group.
Lydon and Levin would reconnect after the Sex Pistols' disastrous '78 North American tour and the band's disintegration after Sid Vicious' death in '79.
Public Image Ltd. was a radical departure from both Levin and Lydon's previous bands. With the inclusion of bassist Jah Wobble PiL the core of the band's first lineup was more-or-less solidified. PiL's early sound was sparse and challenging to listen to and very anti-rock and roll.
What makes Levene's playing unique is his ability to move in and out of melody and rhythmic patterns in a similar way to township and high life players while at the same time remaining minimalistic. This was in direct contrast to Wobble's and drummer Jim Walker's more solidified grounding.
This lineup would not last very long. Levene would record four studio albums with PiL and two live albums, "Paris au Printemps" and "Live in Tokyo".
During the middle of recording PiL's forth album "This What You Want… This Is What You Get" Leven and Lydon had an acrimonious split causing Leven to quit/fired.
Although Leven never completed the "This What You Want… This Is What You Get" sessions a recording known as "Commercial Zone" is available and features earlier versions of many of the songs.
Without a band Leven would act as producer on the Red Hot Chili Pepper's "The Uplift Mofo Party Plan", as well as collaborations with Ice T and Tone Loc.
Leven would later reunite with PiL alum Martin Atkins on the Pigface's "Easy Listening" and with Jah Wobble on "Psychic Life" and "Lonelady".
Recently Leven has released a version of the PiL's "Metal Box" called "Metal Box in Dub" and has written a book featuring original artwork called "I Was a Teenage Guitarist 4 The Clash".
Adam P Hunt is a freelance writer who has previously written for The Library Journal and Premier Guitar Magazine. We are so happy to have him join us here at Guitar Radio Show.com.