500 Words with Adam P Hunt- Marshall "Plexi"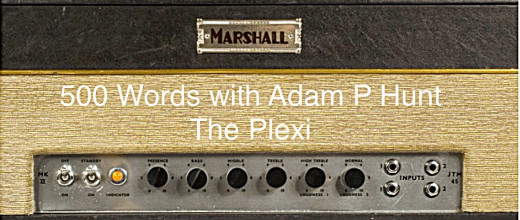 500 Words Marshall "Plexi"
It is difficult to imagine what rock music would sound like without the Marshall "plexi". The "plexi" name itself is evocative of the era when The Who were still a bar band and when a brash young American was coerced into trying his luck playing in London clubs.
The name "plexi", of course, is not an official model designation it's a nickname that has been used to describe several different early Marshall amps.
The "plexi" moniker has alternatively been used to describe several early Marshalls including the 100Watt Marshall 1959 (a.k.a the Super Lead or "original plexi"), the 50 watt version (sometimes referred to as "the plexi"), the 1959T (for tremelo) and the JTM-45 (both head and combo versions).
Legend had that in 1965 Pete Townshend approached Jim Marshall to produce a "bigger and louder" amp to be better heard. With some help from Ken Bran, Dudley Craven and copied much of the layout of a 1959 Fender Bassman in order to make the first JTM-45 for Townshend.
In the 2012 New York Times obituary for Jim Marshall Townshend said, "I was demanding a more powerful machine gun" to "blow people away all around the world," Mr. Townshend told NPR in 2002. "I wanted it to be as big as the atomic bomb had been."
To call the JTM-45 a copy of a '59 Fender Bassman is inaccurate partly due to the availability of GZ34 (5AR4) rectifier tubes and 6550, KT66 or EL43 power tubes. When the modified Bassman was paired with singular cabinet that housed eight 10" Celestion speakers the Marshall sound was born.
Marshall was born in London 1923 and because he was struck by tuberculosis of the bones as a child he was unable to perform military service during WWII. Wanting to contribute to the war effort Marshall taught himself engineering and worked at an engineering firm during WWII.
During the War Marshall also worked as a drummer in a big band and would later become an in demand drum tutor.
With the collapse of the big bands Marshall set up an electronics shop in London in 1960 and two years later he was selling amplifiers under his own name. By 1964 Marshall was exporting amps to the US and Roy Orbison was one of his first clients.
In 1965 a plexiglass faceplate was added to the amps hence the nickname, "plexi".
What is it about the "plexi" that has held audience members and guitar players alike enthralled with the "plexi" for almost 50 years? Especially with the introduction of the master volume replacement model the JCM 800?
When played back to back a JTM-45/100 a 1959 and a JCM 800 sound quite different from one another. For one thing the 1959 is a non-master volume amp so it doesn't wash the notes with a haze of preamp distortion so it sounds more "open" and hits you right in the chest.
Builders that make "plexi" clones will sometimes "jump" the input circuits of the amp to lower the headroom or even sometimes include some sort of built in attenuator.
If your tastes of amps run "vintage", definitely give one a try.
Adam P Hunt is a freelance writer who has previously written for The Library Journal and Premier Guitar Magazine. We are so happy to have him join us here at Guitar Radio Show.com.