500 Words with Adam P Hunt- Paul Bigsby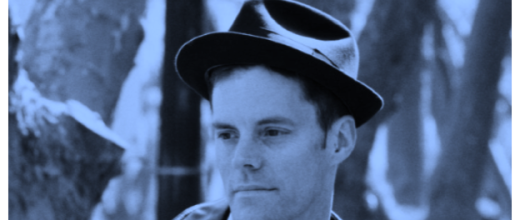 Adam P Hunt is a freelance writer who has previously written for The Library Journal and Premier Guitar Magazine. We are so happy to have him join us here at Guitar Radio Show.com.
500 Words on Paul Bigsby
If you've ever played a guitar with tremlo system on it you have a lot to thank Paul Bigsby for. Paul Bigby (1899-1968) was a master craftsman and once boasted "I can fix anything!"
In the '40's Paul Bigsby was the shop foreman of the famous Crocker Motorcycle Company. Paul's love of country music eventually brought him in contact with country and western legend Merle Travis. Travis was also a motorcycle fanatic and the two men struck a fast friendship.
The Crocker Motorcycle Company wasn't a motorcycle company in same way as other motorcycle companies like Excelsior, Harley Davidson and Indian, were. Al Crocker started Crocker Motorcycles as a custom shop in 1936. Crocker took bits and pieces from the best motorcycles of the time and made them better.
During the early part of 20th Century board track motorcycle racing was extremely popular. In fact there used to be a wooden board track raceway up until 1924 on the sight where the Beverly Wilshire Hotel in Los Angeles is now.
At one point there were twenty-four board track raceways in the US and cities like Chicago, Des Moines, Omaha, and Brooklyn all had one.
Even before "Bakersfield Sound" southern California was a hotbed of country music. Roy Rogers and the Sons of the Pioneers, Gene Autry, Patsy Montana, Spade Cooley and Tex Williams all set up residence in the "Golden State" and combined they would have a profound effect on American popular music.
At some point Bigsby built Spade Cooley's guitar player for Earl "Joaquin" Murphy
a "steel guitar" and that cemented his reputation as a go-to guitar guy.
One day Travis brought Bigby his ailing Gibson L-10 that had been retrofitted with a Kaufman vibrato system.
The Kaufman system was found on some early Rickenbackers and was developed by Leo Fender's original partner, Doc Kaufman.
Upon examination Bigsby noted several design flaws with the Kaufman vibrato system and quickly fabricated a replacement for Travis' guitar.
When Albert Crocker closed Crocker Motorcycles 1942, Bigsby was on his own.
By 1948 Bigsby had built several custom guitars for Tiny Moore, Merle Travis and is perhaps best well known for making a pedal steel guitar for Speedy West.
Bigsby's designs were ornate and well ahead of their times. With their signature six-on-a-side headstocks, one can draw a direct line between Bigby's guitars and Leo Fender's Broadcaster.
By 1965 Bigsby was developing health problems and decided to sell his company. Bigsby contacted an old business connection, Ted McCarty, and Ted bought the company and Paul's entire inventory.
Unfortunately Bigsby died in 1968 but his legacy lives on. His tremolo designs remain a popular add-on and his original guitars are much sought after. All of Paul's guitars were custom and according to the Bigsby website, "After 15 years of research, we can document only 47 steels, six standard guitars, one tenor guitar, two double neck guitars, two mandolins and six neck replacements that are still around today"; highly collectable indeed.