BC Rich Guitars- 500 Words with Adam P Hunt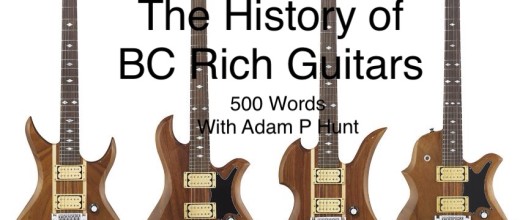 500 Words History of B.C. Rich Guitars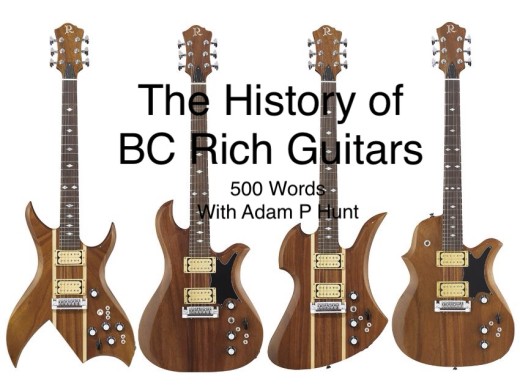 Younger friends of Guitar Radio Show are probably familiar with B.C. Rich's current status as one of the "go to" guitar companies if you really want to make a visual statement and punish your audience at the same time.
B.C. Rich has been so associated with heavy rock gods like Chuck Schuldiner, Nikki Sixx and Kerry King. B.C. Rich has been around so long that it's hard to believe that B.C. Rich originally started off making flamenco guitars and ukuleles.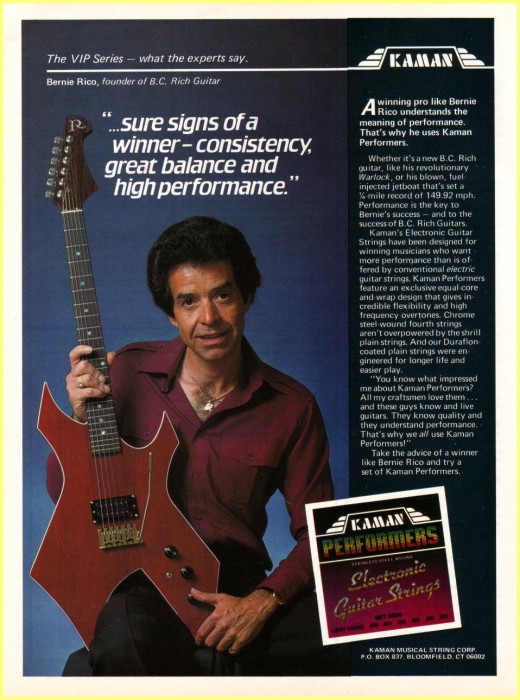 Bernardo Chavez Rico was born in LA CA in 1941, the son of a well-respected guitar maker. Along the way Bernardo Rico Anglicized his name and became "Bernie". According to the Active Musician website "Rico adopted the professional name "B.C. Rich" The history behind the name is that Rico had a friend named Bobby Rich who adopted the Hispanic name "Roberto Rico", so Bernie Rico reversed the process and adopt the name "B.C.Rich" for his guitars. " 

While Bernie's first electric guitars were largely Les Paul inspired it wasn't until he designed the Seagull in 1972 that a distinctly "B.C.Rich" looking guitar started to emerge. For those not familiar with the Seagull imagine a cross between a Les Paul and an Ovation Breadwinner were stitched together using some left over parts from one of Harvey Thomas' creations.
So now you kind of get the idea.
Sort of.
Maybe.
The seventies were pretty grim years for American electric guitars. Gibson was making subpar versions of classic models and Fender was suffering from decades of mismanagement at the hands of CBS. Bernie Sr., along with other American guitar builders like Paul Hamer, Jol Dantzig, Dean Zelinsky, Ron Wickersham and Paul Reed Smith stepped in to fill the desire for high quality, US made guitars.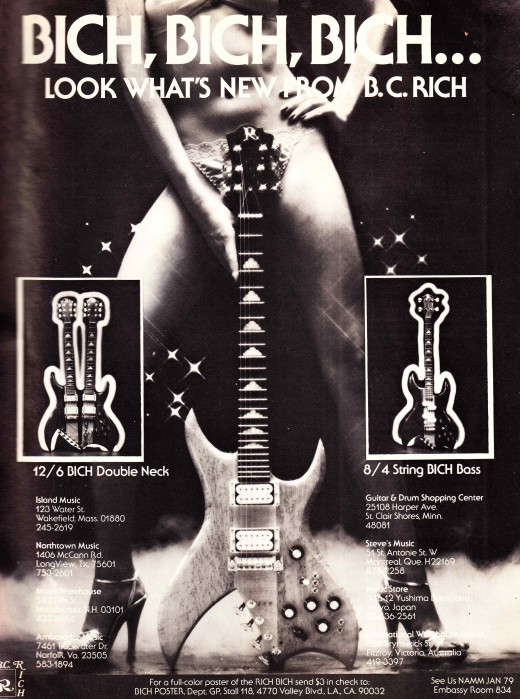 Bernie's early guitars literally tapped into player's desire to have a "go everywhere, do everything" guitar. Many early B.C. Rich guitars came outfitted with a dizzying array of voodoo knobs and mojo switches.
Pre amps, coil taps, phase switches, Varitone knobs, pretty much anything a first call studio musician would ever need.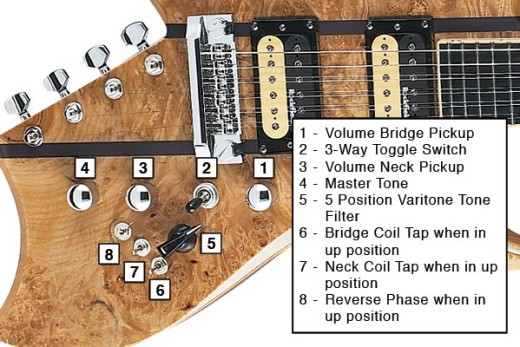 Thanks to the association with such high profile players as Brad Whitford, Joe Perry, Rick Derringer and Dick Wagner changes needed to be made in order to keep up with demand.
Initially B.C. Rich started using necks made by Wayne Charvel, but later B.C. Rich started having complete guitars imported from Japan and Korea.
During the late eighties and early nineties B.C. Rich licensed manufacturing to Class Axe guitars but apparently quality suffered terribly. Bernie Sr. then brought the production back to California and spent the next couple of years trying to get the damaged company back on its feet.
Sadly, Bernardo Rico passed on in 1999 but his son, Bernie Jr. still makes B.C. Rich inspired guitars and so does former designer, Neal Moser. US B.C. made Rich are still available in limited numbers.
For more information please check out the following links:
http://www.bcrich.com
http://ricojrguitars.com
http://www.nealmoserguitars.com
http://gear-vault.com/history-of-bc-rich-guitars/