Guild Guitars- 500 Words with Adam P Hunt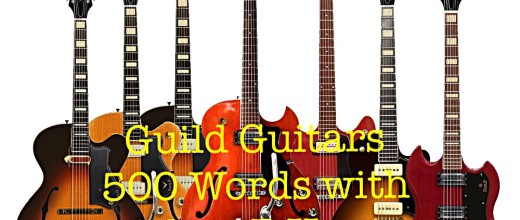 500 Words Guild Guitars
I've made no secret of being a fan of Guild guitars. My late nineties Bluesbird has been my constant companion ever since I bought it. When I wrote for Premier Guitar I used my Bluesbird as my go to guitar for every amp review I did even if I didn't mention it in the article.
But who is Guild Guitars? The answer depends when you asked the question. Like many well-known brands Guild has been bought and sold many times since its formation in 1952.
Like Epiphone, Gretch, and CF Martin Guild also had its origins in New York. Also like Ephiphone and Gretch, Guild had gone through many ownership changes until the present day.
When Gibson bought Epiphone in 1952 Guild former Epiphone executive George Mann and music shop owner Alfred Dronge formed Guild. Early on Guild attracted many top players including Johnny Smith, George Barnes, and Duane Eddy.
The partnership between Mann and Dronge was a short one. After a year Mann left Guild leaving Dronge in charge.
By 1956 Guild had become successful enough to outgrow their original facilities and relocated to Hoboken New Jersey.
As Guild guitars continued expanding Guild made the unusual decision to keep their offices in Hoboken but move their productions to Westerly, Rhode Island. This proved to be a fatal decision to Alfred Dronge because he was killed in his private plane in 1972 while en route to visit the Westerly facility.
With the loss of Dronge Guild guitars limped on through the seventies and in 1995 Guild was purchased by Fender Musical Instruments.
In late 2001 Fender closed all Rhode Island productions and began making Guild guitars in Corona California.
2008 brought new changes as Fender Musical Instruments bought Kaman Music Corp and started making Guild guitars in New Hartford Connecticut.
In 2014 Fender sold Guild to California-based Cordoba Music Group and began some manufacturing in Oxnard California and began having some reissued models produced in the Far East.
The list of Guild players reads like a whose who of popular music and Guild guitars have found their way into the hands of players such as Ryan Adams, Jerry Garcia, Richie Havens, Bruno Mars, Brian May, Michael Nesmith, Tommy Smothers, Kim Thayil, Muddy Waters and Paul Weller.
With Gibson and Fender having the lion's share of the American guitar market why did players gravitate towards this relative unknown? My cynical side says, "Because they were paid to" but the player in me says, "because they are well made" and "they have a gutsy sound".
As I am writing this I saw that Guild had reissued "my" guitar. Even though there are some cosmetic changes to the new Bluesbird I will say the iced tea burst is dead sexy.
What does the future hold for Guild? Without the machinery of Fender behind them or the name recognition of Gibson or PRS they'll never be one of the top three but I don't see them going away again either. At sixty-four years old, you should look so good.