Guitar Documentaries- 500 Words with Adam P Hunt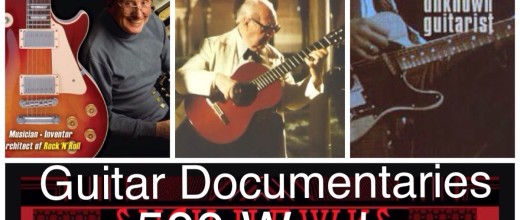 500 Words Guitar Documentaries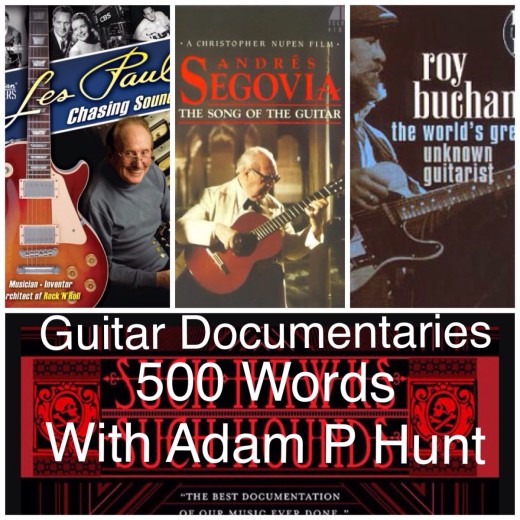 I love documentaries. Heck I've been known to watch documentaries on quilt making and haute coture. A well made documentary can be engrossing and illuminating as well as entertaining. Here area a couple guitar related documentaries you may enjoy.
Roy Buchanan; The World's Greatest Unknown Guitarist. Shot in 1971 this great film that showcases Roy at the height of his power. The film is equal part inspirational, part intimidation, and part homage to Roy.

Les Paul Chasing Sound. This 2007 film gives the viewer a very good overview of the life and career of one of the most influential guitarists. Even if you don't like his music you may just find yourself becoming a fan of this one-of-kind inventor and musician.

Teshumara; The Guitars of the Touareg Rebellion. Not a huge amount of information on this 2006 film but it's a guitar journey unlike any other.

The Song of the Guitar. Andres Segovia did a lot to elevate the art of guitar playing. Not only did Segovia take what was, at the time, a folk instrument and adopt classical pieces to it, he popularized flamenco playing.

Genghis Blues. This 1999 film documents an unlikely journey of a blind blues musician, Paul Pena, and his unique blending of blues and Tuvan throat singing.

Can You Hear the Wind Howl; The Life and Music of Robert Johnson. This 1997 documentary explores the immense impact that Johnson had on popular American music. While the film is a little over serious it does help contextualize Johnson and places him in the place and time he wrote and played.

Be Here to Love Me; A Film About Townes Van Zandt. While Van Zandt was primarily known as a singer songwriter he was also a formable guitar player. During his short life Van Zandt collected a small following of influential fans such as Guy Clark, Steve Earle, Bob Dylan, and Willie Nelson.

Curtis Mayfield; Darker Than Blue. This 1995 film was completed shortly before Mayfield's death in 1999 and covers his early years in Chicago, his rise to fame with the Impressions, and his prolific and poignant solo work. Even though Mayfield may be better known as a singer and producer he was voted the 34th greatest guitarist by Rolling Stone.

Such Hawks Such Hounds. Doom metal is a genre that has never had mass appeal and that's perfectly fine with a lot of the fans. Such Hawks Such Hounds explores the somewhat hidden world of desert rats, stoners, and lovers of all things sludgy.

The Genius of Django Reinhardt. Sadly, not a lot of information on the film but the is a lot of biographical information, and some great archival footage of one of the all time great guitarists. Too bad there isn't any footage of Django playing with the likes of Les Paul and Coleman Hawkins but you can't have everything.

While not documentaries per se I would also recommend Festival Express and Lightning in a Bottle.