Guitarists of Progressive Rock- 500 Words with Adam P Hunt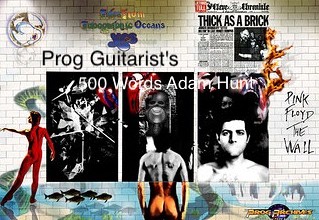 500 Words Guitarists of Progressive Rock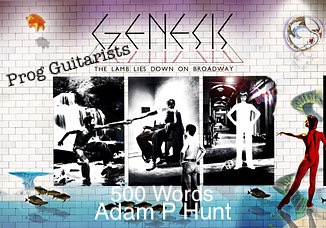 I'll confess, I'm a closet prog rock nerd.
While some prog rock was great and was every bit as transcendent as a work by Mahler or Dvorak but at it's worse it was just ridiculous.
Prog rock's heydays lasted from the mid sixties to the early eighties and combined aspects of 20th Century avant-garde, classical, jazz, folk and rock.
While some people like Pink Floyd, Yes, Genesis, and Kate Bush had a decidedly theatrical flair and incorporated multi media shows others did not.
Despite the butterfly capes and flower masks there were some great guitarists in prog so let's take a look.
1. Edgar Froese. Froese was the Lemmy of prog rock becoming the one constant member of Tangerine Dream. Despite appearing on over 100 Tangerine Dream albums Froese recorded a staggering number of solo albums too. Froese is primarily known as a keyboardist Froese was no slouch on the guitar. His highly compressed, fuzzed out, delay and reverb drenched playing can be heard on many Tangerine Dream albums.

2. Allan Holdsworth. Even though Holdsworth is now more known as a jazz fusion guitarist he played with Soft Machine from 1973-1975. Throughout the years Holdsworth has sought to downplay his involvement with the band by stating he wasn't happy with his playing then I will will counter and say I think this is where he was the most exciting. It should be noted that Police guitarist Andy Summers briefly played guitar with Soft Machine in 1968. Another Soft Machine guitarist of note is Gong founder Daevid Allen.

3. Steve Rothery. Rothery is Marillion's longest continuous member. His playing is lush, sophiticated and melodic and well worth checking out.

4. Steve Wilson, Porcupine Tree. Prog is still alive but is unlikely to reclaim it's once lofty perch. That doesn't stop Neo prog bands like Porcupine Tree, Spock's Beard, IQ and Dark Matter from waving the prog banner. Guitarist Steve Wilson has guided Porcupine Tree since the mid eighties even though the band has been on hold since 2010. Wilson has expressed a desire to record a new Porcupine Tree album but has said he was unsure what direction to go because he's stated he's tired of metal and dislikes jazz.

5. Devin Townsend. In a genre that's difficult to classify Townsend has spent his career defying convention and expectation. For those with a long memory Townsend's name may ring a bell because he was the vocalist on Steve Via's "Sex and Religion" album. After stormy tenure with Via Townsend formed his highest profile band Strapping Young Lad. Strapping Young Lad took joyous pleasure in making abrasive music that was often sprinkled with comic elements. After disbanding SYL Townsend has since ventured into prog, electronic, cabaret and ambient.

Prog isn't every one's cup of tea because there's only so many Mellotrons and crumhorns you can take.
Even though Opeth, Mastodon, and Tool all have prog leanings there's more than enough crunchy guitars dedicated hesher happy.
For more information check out: http://www.progarchives.com/subgenre.asp?style=18