Mosrite Guitars- 500 Words with Adam P Hunt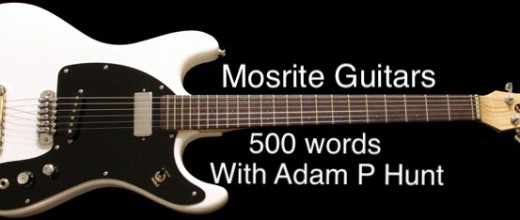 500 Words Mosrite Guitars
Quirky.
Kooky.
And simply weird Mosrite guitars are a thread that unifies country, surf, garage rock, psychedilic and punk.
Guitarists as diverse as Joe Maphis, Tommy Bolin, Jimi Hendrix and Nokie Edwards all used one.
As a young man Bakersfield resident Semi Moseley started playing in an evangelical group and that love of the guitar would lead him to a career as a guitar maker. Moseley initially started working at Rickenbacker under the tutelage of Roger Rossmeisl and would later work with another early electric guitar pioneer Paul Bigsby.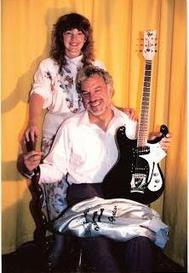 With a $20 loan from a friend, Raymond Boatright, Semi Moseley started making his own guitars. If you hadn't guessed by now the name "Mosrite" is combination between both Boatright and Moseley's last names.
While that knowledge may not score you any points with chicks it may help you get a free drink at a bar.
During Mosrite's early days both Boatright and Moseley approached guitar wiz Joe Maphis about making him a guitar. Joe said yes and soon Moseley produced Joe's famous double neck Mosrite.
The early Mosrites were boutique instruments and cost nearly twice as much as a Stratocaster of the same era.
And as you may have long suspected the original Mark I design is based on a Stratocaster that's been flipped upside down but that's where the similarities end.
With the Mark I you can see both Roger Rossmeisl's influence with how the top is curved and with the "zero fret" and the vibrato system is an updated version of a Paul Bigsby design.
In addition to the changes mentioned the Mark I further differentiates itself from the Stratocaster by including a 3 x 3 headstock design and two P-90 inspired pickups.
Mosrite would continue to produce custom guitars most famously (or perhaps infamously) the flower power surfboard series of guitars for Strawberry Alarm Clock.
(Additional triva; members of Strawberry Alarm Clock would go on to form Lynyrd Skynyrd)
A little later the Mark I was joined by the Mark II which would later become closely associated with Johnny Ramone.
At it's peak Mosrite had a crew of over 100 and produced 1,000 guitars a month.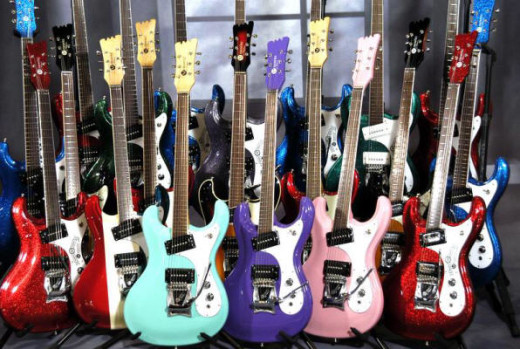 But the history of Mosrite is a rocky one with frequent location changes, on and off again production, and even bankruptcy. Perhaps most devastating of all Simie Moseley died in 1992.
Today Mosrite still exists but it's a matter of debate concerning who exactly owns the rights to produce new Mosrites.
Simile's daughter, Loretta Moseley, however, still makes Mostrite branded guitars and basses.

For more information please check out http://www.mosrite.us