Ronnie Wood- The Greatest Stone- 500 Words with Adam P Hunt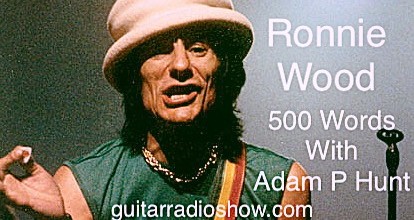 500 Words Why Ronnie Wood is the Greatest Rolling Stone-
Ronnie Wood never gets his due. People have criticized his playing and have said there isn't a definitive Ronnie Wood style. Fair enough I guess but there are several other well-known players are extremely solid guitarists even though they aren't flashy attention grabbing soloists. While it is true that guys like Brad Whitford, Mike Campbell, and Peter Stroud aren't duck lipped, swivel hipped, rock 'n' roll sex machines the same way Jimi Hendrix or Jimmy Page were but it is also true that Aerosmith, Tom Petty and the Heartbreakers and Sheryl Crow sound very different without their contributions.
When Ronnie Wood was asked to join the Rolling Stones Ronnie was all ready an established rock 'n' roll badass. After some minor success with his group The Birds Ronnie joined the first incarnation of the Jeff Beck Group as a bassist and his aggressive style really shines during the final measures of "Spanish Boots" from the Beck-Ola album.
After the first version of the Jeff Beck Group imploded Ronnie Wood and JBG singer Rod Stewart went to join the second incarnation of The Small Faces, shortened the name to The Faces and recorded four boozy albums with the band.
Somehow between playing ramshackle live shows with The Faces, and recording several albums with the band Ronnie Wood and the core of the Faces recorded the soundtrack to the movie "Mahoney's Last Stand", play as part of Eric Clapton's Rainbow Concert in '73, record his first solo album with Mick Taylor, and play on The Stone's "It's Only Rock 'n Roll (But I Like It)".
In 1974 Stones guitarist Mick Taylor decided to throw in the towel in and cast the band into turmoil. Many guitarists tried out for the band including Harvey Mandel, Wayne Perkins, Jeff Beck and Rory Gallagher.
Note: Depending on the sources Roy Buchanan was asked twice to join The Stones, once after the death of Brian Jones and a second time after the departure of Mick Taylor. Apparently The Stones rejected Buchanan the first time around because he was "too hot" and Roy turned them down the second time around because he said he was too messed up on booze and drugs.
Ronnie Wood's tenure in the band hasn't been an easy. When Ronnie joined the band it was awash with drugs and personal rivalries.
Some how Ronnie was able to survive rifts in the band, arrests of band members, drug and alcohol addiction and was still able to make meaningful contributions to such albums as Black and Blue, Some Girls and A Bigger Bang.
While Ronnie may not have the bad boy swagger of Keith, the iconic status of Brian Jones or possess the fluid genius of Brian Jones but during his tenure the band got funkier, their country influences became more pronounced and more than anything else he acted like a stabling influence.
Not bad for a scraggly haired graphic artist from Hillingdon.
Roy Buchanan declines The Stones
https://earofnewt.com/2016/01/24/roy-buchanan-on-turning-down-the-stones-and-being-flattered-by-beck/
Ronnie Wood addiction
http://www.independent.co.uk/news/people/news/ronnie-wood-taken-to-rehab-by-damien-hirst-2350650.html
Ronnie Wood noise complaint
http://www.dailymail.co.uk/tvshowbiz/article-2047215/Paul-McCartney-Nancy-Shevell-wedding-Kate-Moss-Ronnie-Wood-leave.html