Steve Marriott- 500 Words with Adam P Hunt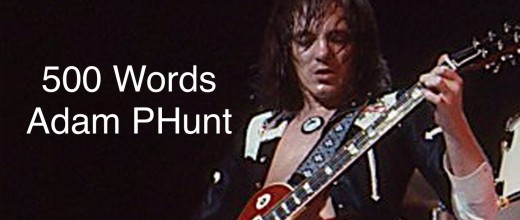 500 Words on Steve Marriott
Although primarily known as a fine singer it's easy to overlook the fact that Steve Marriott was no slouch on the guitar.
Steve Marriott is somewhat forgotten by modern audiences but Marriott was a key member in both the Small Faces with Ronnie Lane and Kenny Jones and later with Humble Pie.
During his time with Humble Pie Marriott shared guitar duties with Peter Frampton, Clem Cleptson (Colosseum, Jack Bruce, Roger Waters), Bobby Tench (Jeff Beck Group II, Van Morrison), and Charlie Huhn (Ted Nugent, Gary Moore, Foghat).
But before his life as a mod pop idol and rock 'n' roll road dog Steve Marriott played the "Artful Dodger" in a 1960 production of "Oliver!"
Marriot played a number of guitars throughout the years including a Gretsch 6120, a Telecaster with P-90 in the neck position, an Epiphone "Dwight" Coronet, several different Les Paul Juniors, Les Paul Custom and some 335s.
Even though Marriott appeared in advertisements for but Ibanez and Ovation it is questionable whether or not he actually put either of these into use.
Marriot's first commercially successful band was the Small Faces that lasted from 1965 to 1969. The Small Faces straddled the line between pop, psychedelic, and r & b. During most of his tenure with the Small Faces Marriot was the only guitar player.
After the Small Faces disbanded in 1969 Marriot would later launch the first version of Humble Pie with Peter Frampton, Greg Ridley (Spooky Tooth), and Jerry Shirley (Fastway, Waysted).
Initially Humble Pie had a softer, almost folky sound to them but as time progressed and lineups changed Humble Pie gained a rougher blues rock sound especially with songs like "30Days in the Hole", "I Don't Need No Doctor" and "Hot 'N' Nasty".
Marriott's guitar sound was a lot of his vocals, robust, forceful, and a bit rough around the edges. Peter Frampton said that he had tendency to favor his neck pickup while playing through an array of Marshalls on the famous "Performance Rockin' the Filmore" albums while Marriott tended to favor his bridge pickup.

Unfortunately Marriott's story doesn't end well. After decades of substance abuse and mental illness (schizophrenia) Marriott was killed in house fire after a night's worth of drinking.
Steve Marriott's guitar playing is sadly overlooked especially because he was the only guitarist for both the Small Faces and for several different lineups with Humble Pie.
Despite having some what of a twee beginning, Humble Pie would go on to sound like the snottier version of the Stones and even covered the Stones' "Honky Tonk Women."
Marriott's legacy, however, can still be head in the echoes of such bands as Led Zeppelin, AC/DC, Guns N' Roses, Mr. Big and Buckcherry. Humble Pie's true legacy is that they laid down an irresistible mix of rock 'n' roll swagger, r & b roots, and soul flavorings that would be heard on the radio for decades to come.