The E Bow- 500 Words with Adam P Hunt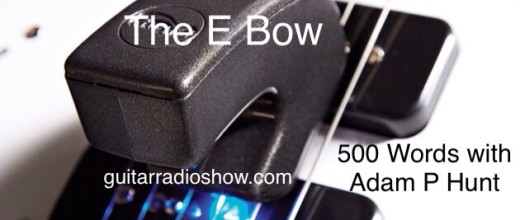 500 Words EBow Adam P Hunt
Haunting, eerie, breathtaking, any of these words could easily describe a curious little handheld device known as the EBow.
Invented in 1968 by Greg Heet the Ebow has gone on to be an effect that unites guitarists as diverse as David Gilmour, Paul Stanley, Frank Zappa, Buddy Emmons and Dave Navarro. When the EBow debuted at NAMM 1976 Jerry Garcia was Heet's first customer.
The Energy Bow or more commonly EBow was the brainchild of inventor Greg Heet. While Heet is no longer with EBow the EBow lives on and has a pretty dedicated following. Even though the EBow has gone through many revisions since it's inception the general coconscious seems that the changes in the EBow are genuine improvements and not done as cost savings measures.
And just for the record the EBow is still produced in the United States and is not farmed out to job shops in the far east.
Small, simple to use, the Ebow is a small, J shaped device is usually held in the picking hand and vibrates a single string at a time and produces a sound that is somewhere between controlled feedback and guitar synthesizer.
While the Ebow has two settings, essentially a faster and slower string vibrating modes, I'm sorry to say that the EBow does not have true bypass wiring.
Even though the Ebow is more closely associated electric guitar usage the Ebow has found it's way into the hands of acoustic guitar players, and Luciano Chessa has been known to use it with the dan bau.
Also, bassist Michael Marning has been known to use two EBows at a time while playing a fretless bass and avant-garde composer Olga Neuwirth has used one with a grand piano.
That's not to say the EBow should strictly be limited to experimental music but it could be useful for overdubs and I ran across a video with Phil Keaggy that used an EBow to help simulate some convincing pedal steel sounds.
Using an EBow is pretty straight forward and EBbow's website says:
"Playing the EBow directly over the pickup will increase your volume many fold and give you the crisp sound of super hot pickups. Moving away from the pickup gives you the mellow sound of a hollow body electric. This complete control over attack, decay and sustain, as well as a whole new range of tones and textures, makes the EBow one of the most expressive tools for the guitarist. "
Simple enough but on the surface a slide is pretty low tech too but not every one can be Duane Allman their first go.
My own experience with an EBow was brief but memorable. I particularly like using it with a delay pedal because it turned a lunk like me instantly into Robert Fripp.
Any one interested in an Ebow should check out http://www.ebow.com/home.php . There's tons of videos, tips, and audio samples and if the site shows you anything it is that an EBow is more than a novelty, it's a serious bit of musical equipment.
Adam P Hunt is a freelance writer who has previously written for The Library Journal and Premier Guitar Magazine. We are so happy to have him join us here at Guitar Radio Show.com.
Here's a Dual E Bow Guitar solo from the Good Rats-