The Guitarists of Glam Rock- 500 Words with Adam P Hunt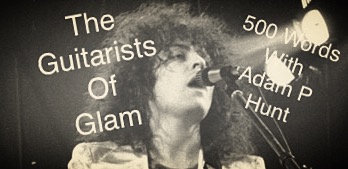 500 Words The Guitarists of Glam Rock
By the end of the 1960's rock 'n' roll was becoming awash of hairy dudes pretending to be cowboys. Despite some highlights the hippie era was grinding to a halt both musically and stylistically .
Maybe it was the drugs.
Maybe they were running out of ideas.
Who knows?
Seemingly out of no where bands from both sides of The Pond started simplifying their sound and brought back a much needed element of showmanship.
In the UK a former model named "John Temple Boy" would go through a radical transformation. "John Temple Boy" would rename himself and perform as one half of a psychedelic acoustic duo. Although his real name was Mark Feld the world knows him as Marc Bolan.
After a tumultuous run as Tyrannosaurus Rex, Bolan bought an electric guitar, shortened the band's name to T Rex. After Bolan started wearing glitter on his cheeks he became glam's first super star.
While Bolan's playing was rudamentary that didn't seem to matter because his sex appeal and charisma more than made up for it.
Whatever his musical shortcomings were Bolan and his fellow travelers soon drafted the blueprint for what would later morph into both punk and shock rock.
One forgotten glam band is Mud. Co-founded by guitarist Rob Davis Mud's songs were simple and catchy and a far cry from Bob Dylan's self imoportance.
Rob Davis would later go onto great success as being a songwriter for the stars like Kylie Minogue.
Another guitarist of note is Roxy Music's Phil Manzanera. Unlike many of the other glam bands Roxy Music was grandiose. Roxy Music was different and drew from Weimar Republic era cabarets, experimental music and centered around singer Bryan Ferry's lounge lizard persona.
Manzanera's solo output is so vast it would taken an entire article just touch on half he's done after Roxy Music.
If Roxy Music were suave Sweet, Slade, and Mott the Hoople were simply ugly.
Seriously, had you seen a photo of Slade's Dave Hill?
Eeesh..
But despite of an utter lack of pretty boy looks Hill wrote memorable songs like "Mama Weer All Crazee Now" and "Cum On Feel the Noize".
Both Mick Ralphs and Mick Ronson had memorable stays with Mott Hoople during their glam period. Later Ralphs and Ronson onto greater success with Bad Company and David Bowie respectively.
Even before his own stint with Bowie, Peter Frampton had his own flirtation with glam and leant his guitar work to New York based glam diva Jobriath.
America also had it's own glam flirtation with people ranging from Suzi Quatro, Iggy and the Stooges, Lou Reed, Zolar X, Jayne County to The New York Dolls.
Glam was campy, stupid, crass, outrageous, and for more check out http://www.doremi.co.uk/glam/index.html