The Muggs- Straight Up Boogaloo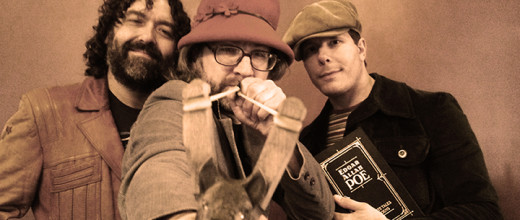 The Muggs- Straight up Boogaloo
The first time I heard The Muggs I thought, "Damn thats really great rock and roll" Then I found out they were from Detroit Michigan and thought, "Oh, that makes perfect sense".
Yep, Detroit has always been a wellspring of incredible American music. When you just skim the surface you have some of the most important contributors to a wide array of genres:
Mitch Ryder, Bill Haley, Aretha Franklin, Marvin Gaye, Jackie Wilson, the Supremes, the Temptations, Stevie Wonder, Hank Ballard, Gladys Knight & The Pips, John Lee Hooker, Alice Cooper, Wilson Pickett, Little Willie John, Parliament-Funkadelic, James Jamerson, Bob Seger, The Stooges, Ted Nugent and Patti Smith. And thats just the tip of iceberg!!
I got turned on to The Muggs and their 2011 disc "Born Ugly", Hearing the track "6 To Midnite" was one of those moments when you think, "were gonna be alright, music's gonna be alright" I was hooked.
So when I got the opportunity to Interview Danny Muggs for Guitar Radio Show and write a review for their new disc "Straight Up Boogaloo" I jumped at the chance!
First let me tell you, when you hear this disc (and you need to hear this disc!) you're gonna feel good. Like bob your head, pump your fist, break some furniture good! Once you've accepted that, you'll notice theres some great songs, strong, hypnotic grooves and killer playing from all three of these talented brothers from another musical mother. The disc opens with what has to be my favorite track, "Applecart Blues" a straight ahead unapologetic rocker, but this disc is not just a slap in the chops, pick your teeth up affair, this is by far the most mature of The Muggs offerings. They have found themselves and you can tell they feel good about it.
Highlights (and to be honest its all a highlight) are tunes like the radio friendly (If radio had a clue) "Fat City", the haunting true blues number "Blues for Mephistopheles", the grooving "Lightning Cries" where Danny Muggs lays down his ode to Page, Frampton & Angus rolled into one thick amalgam.
Side 2 (feels good to say that!) of this vinyl joint is some surprising and pretty killer covers that I didn't quite expect. Let's just say Iommi, Green and Lennon would approve and so do I.
This is pure feel good music and an incredibly satisfying collection of songs and performances. The more I ponder this band I realize, The Muggs don't play rock and roll…The Muggs ARE rock and roll.
Mark Daven
Guitar Radio Show